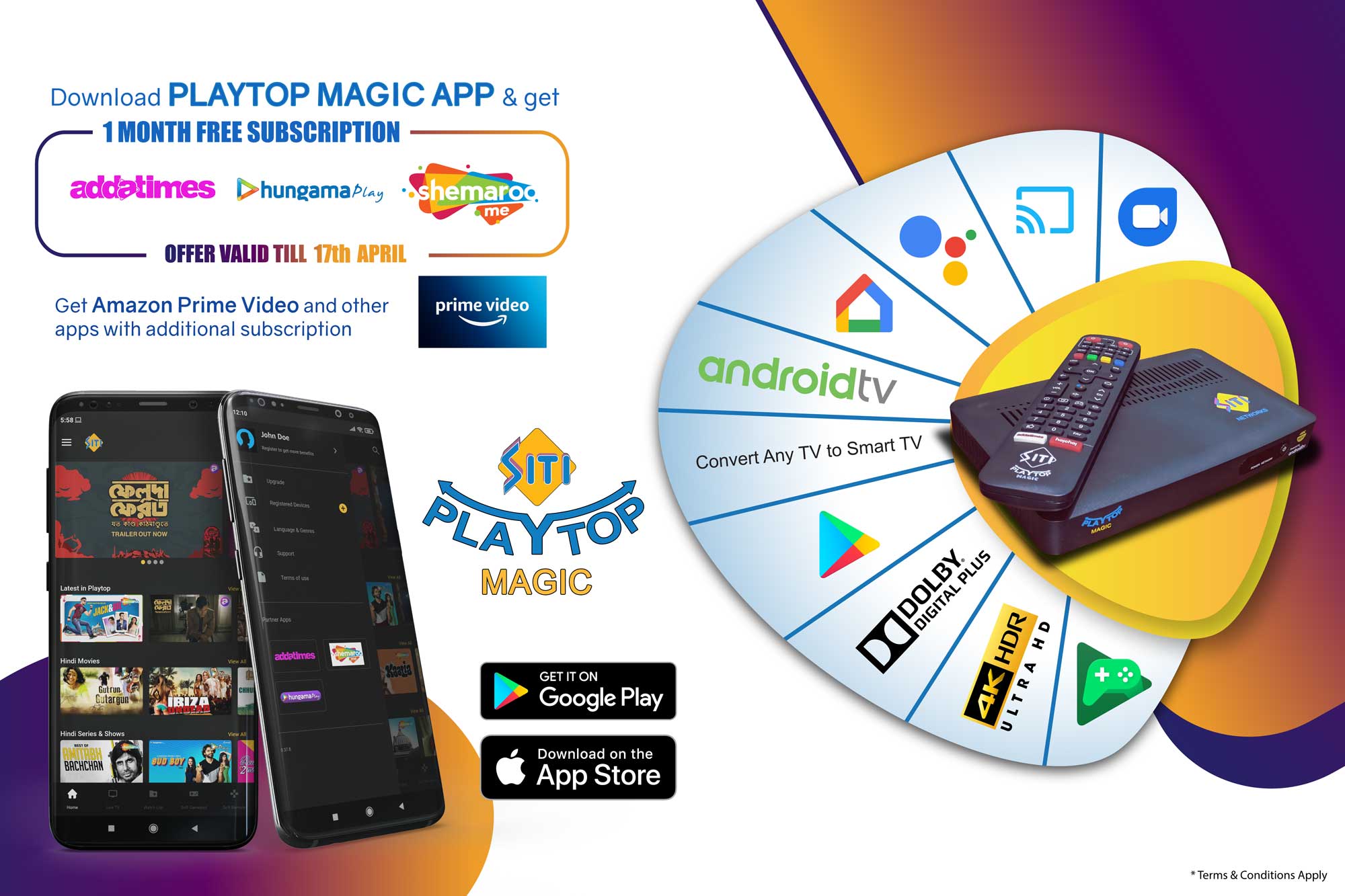 FEATURES
Playtop Magic is a next generation Set top Box. From OTT Apps to Games, Cable channels you can watch almost anything imaginable
| | | |
| --- | --- | --- |
| | | |
| Apart from your regular Cable Channels , you can download Android Tv apps from Playstore | Enjoy your Mobile content, Youtube etc. direct on TV – no need to buy costly casting device | You can even play games using the remote – games are available on the Android Play store. |
| | | |
| Apart from your regular Cable Channels , you can download Android Tv apps from Playstore. | Voice control will allow you to control your TV , launch apps, and even dim you lightswhile you relax on a sofa | Total control of all IOT compatible gadgets at home. Lights, fans, CCTV etc, and more. |
About Us
SITI Networks Limited is one of India's largest Multi System Operator (MSO). With 15 digital head ends and a network of more than 33,000 Kms of optical fibre and coaxial cable, it provides its cable services in India's ~580 Locations and adjoining areas, reaching out to over 11.3 million digital customers.

SITI Networks deploys State-of-the-art technology for delivering multiple TV signals to enhance consumer viewing experience. Its product range includes Digital & Analogue Cable Television, Broadband and Local Television Channels. SITI Networks has been providing services in analogue and digital mode, armed with technical capability to provide features like Video on Demand, Pay per View, Over-The-Top content (OTT), Electronic Programming Guide (EPG) and Gaming through a Set Top Box (STB). All products are marketed under SITI brand name.
Our expertise
We serve 450+ Television Channels across 5 million homes in Eastern India. With equipments from Harmonics, Evertz, Cisco, Appear TV we are proud of one of the best Headend in South East Asia.

Our tie up with Google for Android TV and Amazon for Prime Video makes our offer the most attractive among all contenders.


To Know more contact us:
Indian Cable Net Company Limited.
"MEDIASITI" Building. 14th Floor
XI-4, EP Block, Street No: 26,
Saltlake Sector-V. Electronics Complex.
Kolkata – 700 091
Tel: 033 4002 5000


Copyright © 2019. Indian Cable Net Co. Ltd.